Ocean City "Realty Reality"
Insights into our unique Ocean City Real Estate Market...
OCtheBeach.com is fortunate to have a contributing author with over three decades of experience in ocean city, both professionally and personally, offer to share some of her experiences with you, our readers. What follows is the first in a series.
I Remember When...
by: Terri Moran, Contributing Author

I remember waking up to the sound of huge pilings being driven into the pristine sandy beaches of Ocean City, MD. My husband and I moved here from Baltimore County in 1974 with our 18 month old daughter.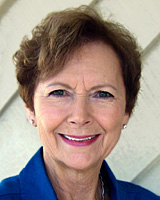 Terri Moran, REALTOR, Coldwell Banker Residential Brokerage

Look at us now, she is living in California, my son (who is 2 years younger) and his family live near BWI/Marshal Airport. And Ocean City is a thriving resort town hosting hundreds of thousands of visitors each year. Almost every lot is improved by a building whether it is a business, single family dwelling, a townhouse or a condominium. I remember when I got my real estate license in 1977 and you could buy a 2 bedroom ocean front condominium in the Sea Watch high rise for just under $50,000. Of course, pricing was relevant to the times. I also remember that there was such a boom that many developers and investors lost their projects to the banks. Some of these buildings sat for several years before being completed and placed on the market and eventually sold.

I remember the mid-eighties, when 2 bedroom ocean front units were selling for $155,000 and our market values remained flat for many years. Prospective buyers looked at 20 or more units before making an offer on one. This is happening today.

I remember interest rates being 8, 9, and 10 % in different years and markets. They went up as high as 18%. What are the rates now? Email me at tmoran@cbmove.com for a current rate sheet at no obligation to you.

Why is this really the best time to buy real estate as a long term investment? Now you can purchase a 2 bedroom direct ocean front condominium between $300,000 to $400,000 with a few under and above these price points. I remember when these same condominiums were selling for close to $600,000. I have seen the ebb and flow of the Ocean and real estate values during my 25+ year career. My experience tells me that now is really the best time to buy.

-----
---
---
OCtheBeach.com is a member of:




Internet presence by the Beaches and Towns Network, Inc.
© 1999-2018 All Rights Reserved
---
• Privacy Policy •

Ads: Beach Personal Checks and Business Checks.