Ocean City Condos & Vacation Rentals
Condominium, Condo & Apartment Rentals - Your Week at the Beach
Thinking about an Ocean City vacation rental for your trip to the beach? Ocean City, Maryland, has approximately 20,000 Condominium units -- with the majority of them available for your vacation rental. Make arrangements now to get the time you want at the price you want. You'll have a great time in Ocean City, Maryland - America's finest family beach vacation resort.
Where would you like to stay?>>
Marigo Beach Condominium
Beachside Condo with major hotel ammenities.
10100 Coastal highway
Ocean City,MD 21842

The Marigo Beach Condominium is adjacent to the upscale Clarion Hotel and a stay at Marigo Beach includes access to the Clarion Resort Fontainebleau Hotel facilities. The Clarion even features a beach bar and a private section of beach unlike any other in Ocean City (because drinks ARE permitted). The photo shows the Marigot Beach Condo on the left and the Clarion on the Right.
Carousel Beachfront Hotel & Suites
Fun at the beach, day or night, all year!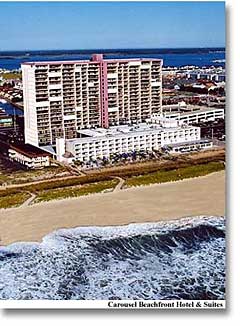 11700 COASTAL HIGHWAY
OCEAN CITY, MD 21842

At the Carousel Beachfront Hotel and Suites you can enjoy a variety of great food, indoors and outdoors right at the resort at the Atrium Deli and Bistro or the Seaside Bar and Grille. Keep the kids occupied in the video game arcade or the year-round indoor pool. For adult entertainment visit the climate-controlled gym with cardio-vascular equipment, resistance machines and a television for enjoyment. After the gym, relax in the Jacuzzi or sauna. For a family outing play it cool on the year-round indoor ice- skating rink.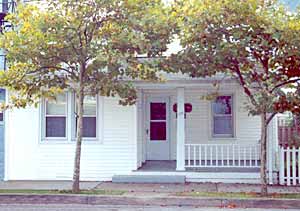 An alternative: For Rent By Owner...
Alcorn's By The Sea
Beachhouse - Downtown - Close to everything. Visit the Website for photos and information.
109 Wicomico Street
Ocean City, Maryland 21842
1-717-413-1853
www.alcornsbythesea.com
---
For Hotels & Motels - CLICK HERE
---
Other Rental Agencies are listed here for your convenience. (Note: These are not ALL of the rental offices at the beach - just a representaive sample, providedas a courtesy to our readers. OCtheBeach.com does not recommend nor endorse any partiular rental office/agency.)
ANDERSON GROUP REAL ESTATE
12610 COASTAL HWY.
OCEAN CITY, MD 21842
Phone: 410-250-5250 Toll Free: 800-833-0556 Fax: 410-250-8502

BUYER'S CHOICE REAL ESTATE
3906 COASTAL HWY
OCEAN CITY, MD 21842
Phone: 410-524-6222 Toll Free: 800-492-8937 Fax: 410-524-5006

CENTURY 21 NEW HORIZON
8300 COASTAL HIGHWAY
OCEAN CITY, MD 21842
Phone: 410-723-4500 Toll Free: 800-369-0101 Fax: 410-723-0416

COLDWELL BANKER/BUD CHURCH
7806 COASTAL HIGHWAY
OCEAN CITY, MD 21842
Phone: 410-524-7888 Toll Free: 800-851-7326 Fax: 410-524-1837

CONDO REALTY SALES & RENTALS
7802 COASTAL HWY
OCEAN CITY, MD 21842
Phone: 410-723-0988 Toll Free: 800-395-0988 Fax: 410-723-1722

HOLIDAY
7700 COASTAL HWY
OCEAN CITY, MD 21842
Phone: 410-524-7700 Toll Free: 800-638-2102 Fax: 410-524-7055

LONG & FOSTER - OC
11701-3 COASTAL HWY
OCEAN CITY, MD 21842
Phone: 410-524-1700 Toll Free: 800-992-7777 Fax: 410-524-1423

MANN PROPERTIES
301 BOARDWALK
OCEAN CITY, MD 21842
Phone: 410-289-6156 Fax: 410-289-5443

PENINSULA REAL ESTATE SERVICES
7200 COASTAL HWY STE 302
OCEAN CITY, MD 21842
Phone: 410-524-0027

SEA GATE SALES & RENTALS
3001 ATLANTIC AVE
OCEAN CITY, MD 21842
Phone: 410-289-4669 Toll Free: 800-678-5668 Fax: 410-289-7970

SHORELINE PROPERTIES
6808 COASTAL HWY
OCEAN CITY, MD 21842
Phone: 410-524-6688 Toll Free: 800-492-5832 Fax: 410-524-4225
---
OCtheBeach.com is a member of:




Internet presence by the Beaches and Towns Network, Inc.
© 1999-2018 All Rights Reserved
---
• Privacy Policy •

Ads: Beach Personal Checks and Business Checks.


June 19, 2019