Ocean City Kites, A Maryland Favorite Activity
Kites and Families On the Beach
Go Fly A Kite
Coming to Ocean City? Of course you are; and you are also planning what to bring for family fun on the beach.
Better buy your kites before you get to OC's Beach and BE the Fun! Kite flying is an integral part of fun on the beach. With a great off shore breeze you can create your very own festival for everyone to watch, and you can join in with others having a great time.

Crabby says to, "Choose kites the whole family can enjoy; selecting ones that put different kite shapes, colors, tails, and characters together."
Most Single Line Kites can be flown by any age (as long as there's a responsible adult around helping the little ones) and the kid in everyone soon comes to life. You can find Patriotic Kites, Pirate Kites, Animal Kites, Parafoil Kites, Box Kites, Airplanes and More!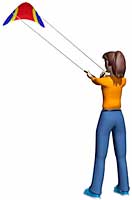 Two-line Sport Kites allow the pilot (that's you, the kite flyer) to finesse the kite through aerobatic stalls, loops, spins and more. It is also fun to compete against other kite flyers.
For the bigger kids, Stunt Foils are the newest way to have fun flying a kite. Learn stunts and feel the power of the wind pulling on your arms. There is no frame to break and these kites fly in a wide wind range.
Look, These are NEW & POPULAR: Kite Theme Personal Bank Checks. Enjoy kite flying all year, with each check you write, all year long. These kite checks are available at about half the price of bank-printed checks...CLICK HERE for more info...
Ocean City has several popular kite shops but may we recommend that you order online . Then you can "fly" when you get here, rather than stand in line waiting to get your kite.
DON'T FORGET: Kite line, winders, stakes and more...for fun at the beach.

On another note: If you would like to start your own blog or website about kites at the beach - having the perfect domain name is a great place to start. Click here: http://www.vitaldomains.com/ocean-city-kites-domain-for-sale-oceancitykites-com/.
---
OCtheBeach.com is a member of:




Internet presence by the Beaches and Towns Network, Inc.
© 1999-2018 All Rights Reserved
---
• Privacy Policy •

Ads: Beach Personal Checks and Business Checks.