Ocean City Condos / Condominiums...
Condo Row, Ocean City, MD

From The Carousel to the 9400 Building, Condo Row, also known as The Gold Coast, stretches from 118th Street at the north end to 94th Street on the South (left to right in the picture above). These pages contain photos and information about this section of the beach that provides summer homes and vacation condos for thousands upon thousands of OC visitors every year.
But first, a bit of history...
Driving over the Rt. 90 bridge your first glimpse of Ocean City is of the high-rise condos springing up from the spit of sand from 94th Street to 118th Street. Prior to the 70's, there were very few buildings north of 30th street. Most people did not want to vacation "so far away" from the town. The boardwalk had just been extended to 27th Street in the 60's and "by the boardwalk" is where people wanted to be.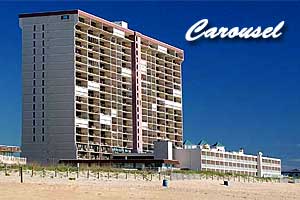 There were many events that sparked the rapid construction of high-rises in Ocean City in the 70's. One was the nor'easter In 1962. The storm caused considerable damage to town. People were leery of rebuilding in an area that could be wiped out by a storm. Property values took a plunge. Real Estate speculators and investors took advantage of the reduced prices, buying land and getting new building codes enacted. The construction of Route 90 was completed in 1972, allowing another way to access Ocean City at the northern end and the Ocean City sewage collection and treatment plant at 64th Street was completed.
But perhaps the person that started it all was political operative Bobby Baker. He believed that Ocean City would become a huge resort, and purchased two oceanfront lots at 118th Street in the early 1960's. The original Carousel was built in 1962 as a hideaway for Washington, D.C. power brokers. The "Bobby Baker Building" as it was referred to was four stories high and now contains 75 oceanfront hotel rooms at the Carousel. In 1974, the 22 story Tower Building, housing 190 privately owned condominiums and 162 additional hotel rooms, was built and connected to the original hotel building, making the Carousel Hotel and Condominium the only multi-use facility in Ocean City (with a total of 237 hotel rooms and 190 condominiums). The Atrium, which is part of the Tower Building,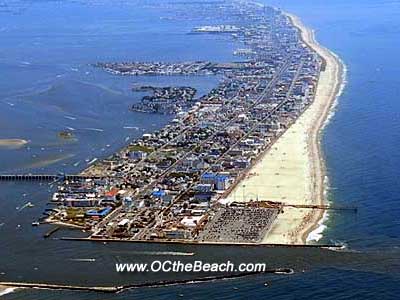 hosts the world famous indoor Ice Skating Rink as well as a full service restaurant and lounge, an indoor pool, sauna and exercise room. The outdoor patio area, which is in front of the original Bobby Baker Building, has an outdoor pool, and a patio bar and grill.
Highpoint (South) was actually the first high-rise condo building in Ocean City. Constructed in 1970, its 15 stories stood alone on 114th Street. But not for long. The Sheraton Fountainbleau (now the Clarion Resort Fontainbleau Hotel) became the first luxury high-rise motel built in 1970 on 101st Street. By the mid 70's, the tallest at 28 stories, The Century, the award-winning Pyramid, English Towers, Atlantis, Capri, The Irene, The Fountainhead, Golden Sands and 9400 were built, causing a glut of lodging in a poor economy. Over 10,000 condo units became available in several new high-rise buildings now dotting the oceanfront. Many units had been bought at pre-construction prices by real-estate investors hoping to sell and turn a quick profit once they were built. There were over 3,000 unsold condos in the mid-1970's and only The Century and Golden Sands escaped auction.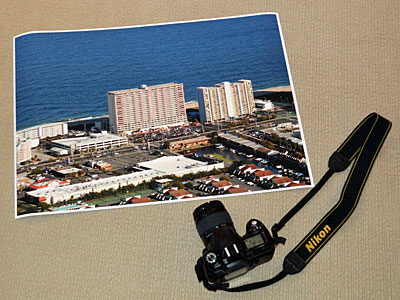 Art Photos of Condo Row, by beach local, Bill Swartwout.

By the late 1970's and early 1980's, inflation eased and the economy rebounded. The high-rises that once stood almost empty were rapidly being bought and Ocean City experienced a real-estate boom that brought higher prices and more construction. Today, Condo Row stands as a testament to the many early investors in Ocean City. Their dream that the once small oceanside resort would expand into a bustling vacation resort has come true.
(Contributing Author, Helen McElvaney)

Photos, like the sample to the right, have now been made available for sale by local photographer, Bill Swartwout. Visit Bill's Online Gallery at Bill Swartwout Photography for more details. These are available printed on a variety of quality surfaces, including canvas. They can vbe delivered framed or unframed and you can see them and buy one - as a gift for a gracious host/hostess or for yourself - by clicking HERE.
---

Note, please. The high-rise buildings of the Gold Coast, or Condo Row as it is now called, are listed in our menu (top right) from North to South. However driving northbound along Coastal Highway you would find the buildings in this order: 9400, Flying Cloud, Pyramid, Century I, English Towers, Marigot Beach, Clarion Hotel, Atlantis, The Quay, Golden Sands, The Capri, Irene, Rainbow, High Point South, High Point North, Sea Watch, Fountainhead, and Carousel.
---
OCtheBeach.com is a member of:




Internet presence by the Beaches and Towns Network, Inc.
© 1999-2018 All Rights Reserved
---
• Privacy Policy •

Ads: Beach Personal Checks and Business Checks.


---