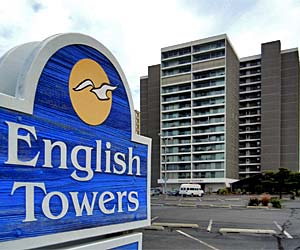 As you walk into the beautiful lobby of English Towers, you can see that the Board of Directors and owners take pride in their building. The meeting room and separate manager's office is to the left just inside the main entrance.

While not one of the larger condos on the Gold Coast, English Towers still has a lot to offer - it has an Olympic size indoor pool (open from 8 am to 10 pm daily), a game room (open from 7 am to midnight) and two elevators. There are restrooms on the first level and each owner has a storage locker just outside the door leading to the beach. Built in 1974, this 16 floor masonry building consists of 2 and 3 bedroom units totaling 122. There are two tiers of 3 bedroom units on the ocean at either end of the building and two tiers on the bay side of the building. The remaining four tiers are 2 bedroom ocean front units.

With an in-house manager and 24 hour security, this is a popular building for owners and visitors alike.