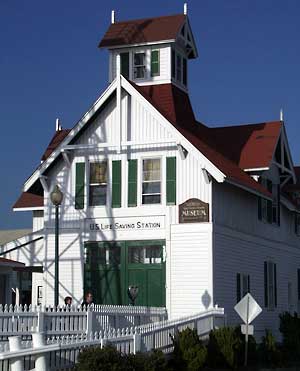 Seaside Adventure! - The historic Ocean City Life-Saving Station Museum serves as the town's museum. It once housed the surfmen charged with rescuing shipwrecked mariners from the sea, and later, the U.S. Coast Guard.
The Beach Room - houses a large collection of bathing fashions, beach toys, and accessories worn by Ocean City beach goers during the past century.
The Aquarium Room - contains two 250 gallon saltwater aquariums and several smaller tanks filled with interesting creatures indigenous to the Ocean City waters.
Sands From Around the World - is a unique collection of over 200 samples of sand collected by friends of the museum.
Davey Jones' Locker - Deep-sea divers share with you unusual objects that have been recovered from the shipwrecks off of Ocean City and the surrounding area.
Wreck in the Offing - is a vividly depicted exhibit of the U.S. Life-Saving Service
The Sirens of the Sea - is an exhibit devoted to the mermaid.
Several unique dolls' houses - depict the once gracious hotels and notable businesses of Ocean City's past.
The Museum is located at the extreme South end of the Ocean City Boardwalk, next to the Inlet. Parking is available in the adjacent municipal parking lot. The bus terminal and the boardwalk train are located close by.
Museum Hours: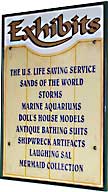 June through September, Daily 11 am to 10 pm
May and October, Daily 11 am to 4 pm
Winter, Weekends, 10 am to 4 pm
Admission: Adults $3.00,
Children 6 to 17 are $1.00 each,
Children 5 and under are free,
Senior age 62 and above $2.00,
Active Military are $2.00.
Ocean City Museum Society
P.O. Box 603
Boardwalk at the Inlet
Ocean City, MD 21843
410-289-4991

email: curator@ocmuseum.org