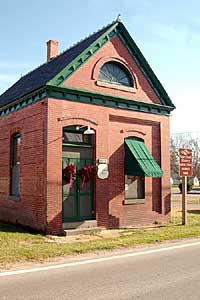 Six miles south of Snow Hill stands a quiet town named Girdletree. In the past Girdletree had been a thriving community and George L. Barnes, a prosperous merchant of the community, saw the need for a bank.
The bank was built in 1901 and opened in January, 1902, operating under George L. Barnes & Company and closed in the 1930's.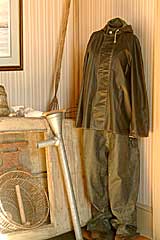 The Girdletree Barnes Bank is one of only two small banks remaining in Worcester County. It serves today as a museum, exhibiting items and memorabilia from this rural community's past. Whjile no longer actively involved in banking persuits such as issuing business checks and protecting and investing one's furtune(s), a large walk-in vault is being restored - so you can see how it might have been done in the (not so distant) past.
The structure is brick with stone sills. The roof is slate with metal cornice trim and cresting.
The museum is open May through September on Wednesday and Saturday from 1:00 - 4:00. In addition, group tours may be scheduled.