Costen House, A Brief History ...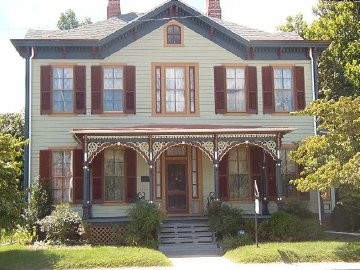 Costen House was built by Dr. Costen shortly after the Civil War and was lived in by members of his family for over a century. It is sponsored by the Spirit of Newtown Committee, founded in 1974, Myrtle A. Polk and a group of public-spirited citizens, when the home was threatened by demolition.
(Photo of Costen House, on the right, by Linda Busick.)
Dr. Costen was born on October 10, 1832 in Somerset County. Maryland, the son of William and Rosa Taylor Costen. He was educated at Washington Academy in Princess Anne and received his medical degree from Penn Medical College in Philadelphia in 1857.
During the Civil War, in addition to his medical duties, he was a Confederate blockade runner, carrying food and supplies at great personal risk across the lower Chesapeake Bay to the Hampton Roads area. He was also noted for his work with typhoid fever and stories abound of the good doctor traveling on horseback through the swamps during a severe typhus epidemic.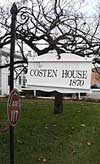 He came to live in Pocomoke, then known as Newtown, after the close of the Civil War. In l866, he married Miss Olivia Adams. They had seven children: Rose. Eleanor, Mary, William, Addie, Olivia, and Elizabeth.
At the time he was elected mayor of Pocomoke City in 1888, Dr. Costen had already served fifteen years on the Democratic State Central Committee. He had been elected to the Maryland State Legislature in 1881, where he served only one term, citing his patients' needs as the reason for not returning to Annapolis. He was a trustee of Pocomoke High School and an Elder and Trustee of Pitts Creek Presbyterian Church. He served two terms as mayor, 1888-l892 and in l908 was again elected mayor to serve two more terms. Dr. Costen died at his home on April 1, l931, just six months short of his 99th birthday.