Explore the Shore - MORE - by Kayak!
Kayaking Ocean City
Our quiet, coastal waterways await YOU.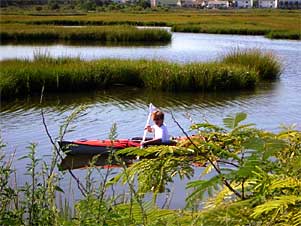 Wanna' get a little exercise while enjoying your holiday here in Ocean City, Maryland? Lolling on a sunny beach, eating those famous fries while sipping a shake, combined with evening dining in our famed restaurants can add a few dreaded vacation pounds. Here's some help!
No noisy motor, no costly stops at the gas dock...it's just you and a paddle, gliding along at your own rhythm. Kayaking has become a popular and fun way to explore the calm waters of our back bays and tidal wetlands, the coastal waters from Delaware to Virginia, which surround our island resort. It's contemplative. Here one can view and experience, up close, the real seashore complete with all its magnificent wildlife including birds, fish and shellfish and plants. Tip: Keep a camera handy camera and make your own postcards.

A kayak is no 'tipee-canoe'...you're actually comfortably seated on the bottom of a tub - with a low center of gravity - and you're wearing a life jacket! If there is any drawback to the kayaking experience, it's getting in and out...though that, too, can be part of the 'exercise' mentioned earlier. ;-)
Below are listed several of the local kayak rental outlets that will assist with the getting in and out and provide you with instructions for your first paddle. Several of them offer guided group tours including evening and moonlight paddles - romantic experiences indeed. Check out their websites* to find your perfect fit...
---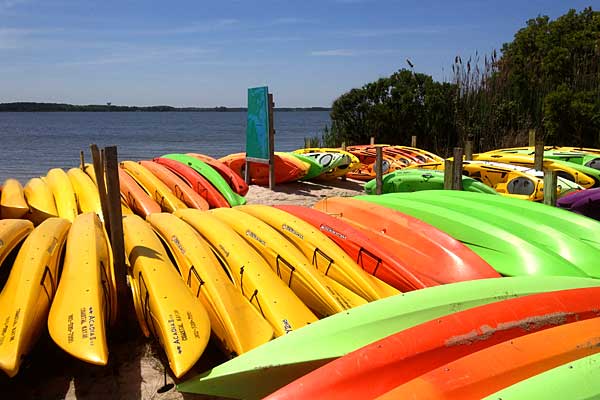 Above: A "sea" of kayaks for rental, tours, instruction and FUN.
Below: The Kayak Shack (author terminology) for rental, safety gear, instruction and more.
Both images are from Coastal Kayak, the watersports concession facility,
at the Delaware State Park just north of Fenwick Island, Delaware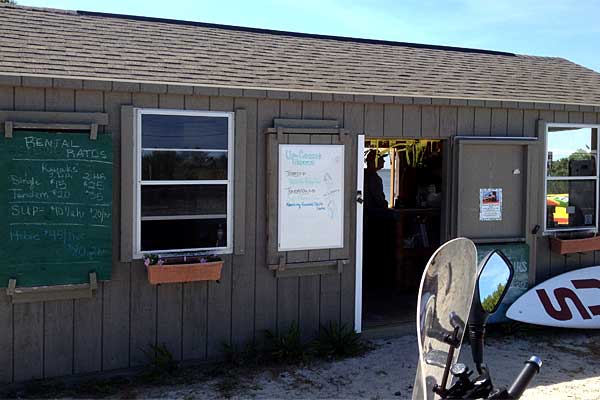 See a few more Kayaking Photos HERE - of the marsh just west of 100th street in Ocean City.
* Note, please, that compnayies are listed here solely as a convenience for readers and do not represent a recommendation or endorsement by OCtheBeach.com, it's parent coprporation or the author(s) of this article.
---
OCtheBeach.com is a member of:




Internet presence by the Beaches and Towns Network, Inc.
© 1999-2018 All Rights Reserved
---
• Privacy Policy •

Ads: Beach Personal Checks and Business Checks.