Explore the Shore
Bird Watching: Hobby or Sport; it's all FUN!
Whether you're into tromping through a field, sitting beside your window gazing outside, or watching a Baltimore 'bird' team on TV, bird watching is a popular Ocean City, MD area pastime! It is one that brings thousands of visitors to the Eastern Shore every Spring and Fall.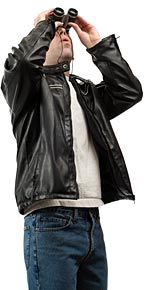 The Delmarva Peninsula is ideally suited for bird watching of any sort...perfectly situated along the Atlantic Flyway (a super highway in the sky) for north - south bird migration; our Shore also offers ideal conditions for the wintering-over of many bird species. Miles of shoreline - be it bay, steam, pond or ocean, combined with old growth pine forests and recently harvested farm fields provide optimum habitat. On most any day, no matter the weather, one can find birds of all types. During the recent annual Christmas Bird Count, 149 different species were sighted in one day in and around Ocean City Maryland! Pretty impressive numbers! During these hikes around the Shore, many devoted 'birders' add to their 'Life-List'...a compilation of bird species and sub-species seen throughout one's lifetime. Some dedicated birders have lists which number in the thousands, amassed by travels all over the world!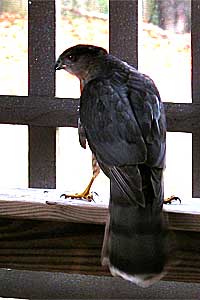 However, if you are just mildly addicted or consider reasonable travel enough, then the next event on our calendar - an invitation to our Spring DELMARVA BIRDING WEEKEND. This weekend, April 26 - 29, 2012, celebrates the spring migration of thousands of warblers, shorebirds, waterfowl and raptors. The Weekend combines boat trips, paddling treks, and expeditions by foot. If you are coming to the area to take part in this great weekend, staying in Ocean City makes sense - a natural jumping off point for the area's many festivities. Remember to make your lodging reservations early via our link - Ocean City Hotel Reservations.
A natural evolution of this enjoyable endeavor and to preserve a record of your 'birding' activity is photography...some of the best pictures taken by OC native, Allen Sklar of our Shore's bald eagle population on Assateague Island may be viewed at - Allen's SmugMug.com Display.
Another popular form of bird watching is termed 'Backyard Birding'...and for some this is quite enough. One friend, after spending time in his workshop during the winter puts out an array of nesting boxes on his property every spring - each designed to attract a different species. One family of Carolina wrens has been known to visit the same nest year after year. Providing natural habitat in the form of trees and shrubs and feeding birds during the winter with suet and seed can attract many different species. Also important is providing an unfrozen source of water to keep the birds happy and healthy during the cold season.
Backyard birding can be a lot of fun without having to roam further than your own backyard!
No discussion of Bird Watching can be complete without mentioning one more form of Delmarva bird watching - that of viewing our hometown teams whether in person or on TV. Love our birds - Baltimore Ravens and Baltimore Orioles. And, in fact, if you find yourself in OC during the season there are always the fun games to see at Perdue Stadium in nearby Salisbury. The Shore Birds (an affiliate of the Orioles) is a minor league baseball team based right here on the Eastern Shore.
So, you see there are many forms of this hobby or sport and they are all FUN!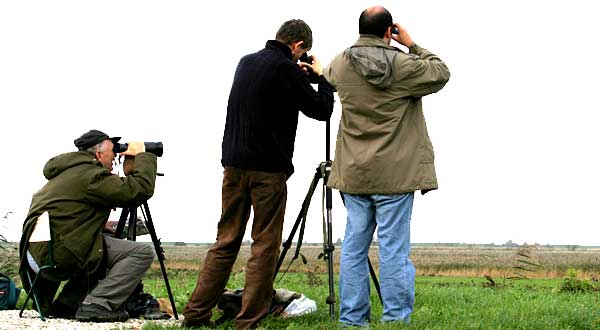 Fowlers, watching,,,and waiting...
---
OCtheBeach.com is a member of:




Internet presence by the Beaches and Towns Network, Inc.
© 1999-2018 All Rights Reserved
---
• Privacy Policy •

Ads: Beach Personal Checks and Business Checks.